https://cdnjs.cloudflare.com/ajax/libs/OwlCarousel2/2.1.1/owl.carousel.min.js
Learn with Tweak!
Simply plug the modules together to build and rebuild your bot as many times as you want. This is a simple and easy tool for kids to get started with robotics and logical thinking. The possibilities are endless & kids can continue to make anything as they imagine and learn to program their bot.
Basic Design with Free Play!
Build your first bot in just 5 minutes and control it using the Tweak App. Make as many designs as you can imagine and play with them.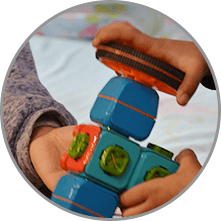 Build

Connect
Play
Mechanical Designing
Make Your Own Toy following the guided instructions in the Tweak App. Attach the corresponding skins & modules and voila! Your toy is ready for play.
Follow Instructions
Attach
Skins
Play with your toy/bot
Did you know Tweak allows for more than a million designs limited only by your imagination?
Want to Know More about Tweak?
Understanding Sensors
The Tweak set contains various types of sensors such as LDR, Touch, IR & Color. Once connected, the app loads some pre-defined behaviours of the sensors. The objective is to help the child understand how sensors function. Some examples mentioned below:
LDR Sensor (Turn the light ON)
Attach an LDR Sensor on your bot & it will glow when its dark!
IR Sensor (Obstacle Avoider)
An IR Sensor can allow your bot to move about without bumping into anything.
Learn Programming
Once the child understands basic design & functioning of modules, he/she can now program their toy/bot using the graphical programming interface. Some examples are given below:
HAND follower
Program the bot to follow your hand using the IR Sensor.
RESPOND TO taps
Write a program in which your bot starts moving if tapped on the touch sensor
Avishkaar Maker Studio, our graphical programming software, has a very intuitive interface to make learning programming fun. This opens up endless possibilities. Who knows a robot designer is in the making in your child?
Pre-ordering for Tweak has begun!
We've set up an Indiegogo campaign to crowdfund Tweak and offer an opportunity to pre-order it before it goes mainstream.
Pre-Order Now
Indiegogo is a reputed international crowdfunding platform where people can crowdfund/pre-order unique, innovative ideas and products.