It is a proud moment for us – Tweak has been selected among the Top 20 designs submitted in this year's Design Intelligence Award!
Led by our dynamic Industrial Designer Ishaan Iyer, this has truly been a labour of love!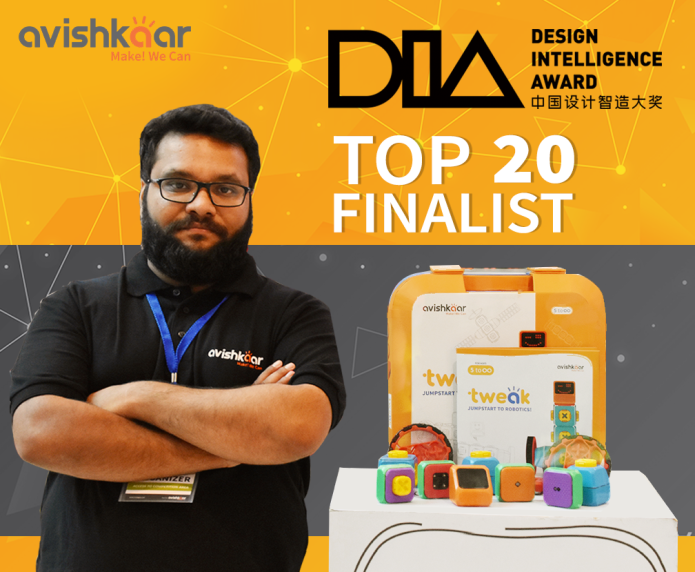 What is DIA?
Design Intelligence Awards (DIA) is an international industrial design award that honors global physical and digital products, as well as individuals and studios with the most outstanding work in the field. It is China's premier awards program and the winners of the DIA Award receive a hefty cash prize that goes up to 1 million RMB (approx. $145,000 USD) and are armed with all the skills and assets needed to take their product to the next step.
Why did we make Tweak?
Avishkaar has been present in the robotics education industry in India for 10 yrs now and has promoted a culture of robotics supported by their range of robotics kit at the middle school level through their E-Series kit. These kits are aimed at children of age 8 yrs and above. We have a captive audience through robotic clubs being supported by our range of products in around 1000 schools.
Now coming to the question of why we came up with Tweak… A need was felt for an entry point product and an easy learning tool with simple interfaces. The thought was to initially keep product complexity very low and have an element of fun and creation for engaging the children. We conducted a study to understand the usage scenarios of their robotics kits in schools, how children handle the products, what they are intimidated by and how to engage them at a young age. We reached out to parents and teachers to understand their efforts to introduce the child to fun learning games and activities.
We also sought interviews with child psychologists and teachers specializing in hands-on learning and creativity. We wanted to promote STEAM education rather than just STEM learning. This helped to firm up our understanding of design parameters. We wanted to maximize and open a window to emerging technologies and new skill sets. Therefore along with the current ecosystem of robotics education, a new market could be tapped in the retail segment.
It is an honour and testament to the hard work put in by Avishkaar to be recognised by Design Intelligence Awards. And no, we're not stopping at Tweak. We've already come up with a brand new product – Avishkaar Maker Board. Check it out too!