Hello Makers!
I am back again with a new Robotics model. Lets make a Humanoid Robot this time. This is an advanced model made from
Avishkaar Robotronics FULL
and some additional accessories.
Watch Video
Steps for making a Humanoid Robot
Step : 1
---
First of all make the Mortar's base. For that you need 2 long L, 1 Short L, 2 Short Rectangular plates and 2 Square Plates. Now attach them all and make base as shown in the image..
Step : 2
---

After assembling the base structure, attach motors to the square plates by inserting shaft in last hole & fix it with motor nuts.
Step : 3
---
Take a square plate & an L-Clip. Attach both of them and fix a caster wheel on the side of L-Clip and fix the whole structure with the Short L of the base.
Step : 4
---
Attach wheels to the shaft of the motors & lock it with the axle locks.
Step : 5
---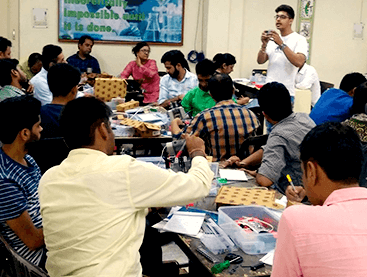 Now fix the long U with help of flexible strips to make the barrel as shown in image. Note: Keep the nuts & bolts towards the outward side of the barrel.
Step : 6
---
Now add some flexible strips and a short L to the barrel to make its stand..
Step : 7
---
Now mount the barrel on the base.;
Step : 8
---
Now attach 2 L-Clips at the 1st and 5th hole of long L of base and attach a long rectangular plate on each.

Step : 9
---
Take a short U and 2 L-Clips & attach them like this..
Step : 10
---
Now add both arms to both sides of a Long L & the shoulders of your Humanoid are ready!
Step : 11
---
Fix the shoulders to the base structure and you will find that your robot has started looking like a Humanoid.
Step : 12
---
Lets make the head of the Humanoid! Add 1 L angle, 1 square plate, and 1 short rectangular plate as shown in the image below.
Step : 13
---
Take 2 flexible strips, bend them & connect them with a short U as shown in the image.
Step : 14
---
Fix the structure made in Step 13 behind the head (made in Step 12). Make the eyes & mouth with help of 2 small gears & 2 rack gears. You can fix the gears with help of 3-inch axle shaft as shown in the image.
Step : 15
---
Now attach a Long L to the back of the head of the robot with the short U.