Robotics Advanced Bridge Kit
Want to upgrade your Robotics kit? We got the perfect bridge kit for you.
₹ 4999/-
In stock
(Inclusive of shipping, handling and taxes)
Delivery Options
Email Us
support@avishkaar.cc
Compatible heading
Robotics Starter Kit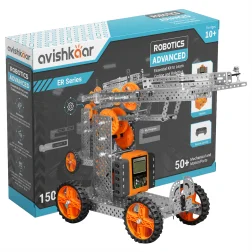 Robotics Advanced Kit (ER-Series)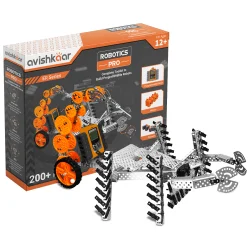 Robotics Pro Kit (ER-Series)
Product Description
---
Go beyond the basics of robotics - get access to a fully programmable brain so you write custom codes and program your motors using Avishkaar's block-based coding software AMS; also get a remote control so you can operate your robots using it.
●7.5" L-Beam : 1
●7.5" Rectangular Plate : 1
●7.5" U-Beam : 2
●7.5" U-Channel : 2
●8" Axle : 1
●2.5" Square Plate : 1
●Nut & Bolt Box (Advanced) : 1
●Full Brain : 1
●Battery : 1
●Remote Controller : 1
●USB Cable : 1
●Long Cable : 1
●High Torque Motor : 1
●Big Wheels : 4
●Pulley : 1
●Rack Gears : 2
●Advanced Kit Manual : 1