Axle Shafts (Quatro) Pack
An add on-set for Avishkaar robotics kit!
₹ 350/-
In stock
(Exclusive of shipping and handling, inclusive of taxes)
Delivery Options
Email Us
support@avishkaar.cc
Compatible with
E-Series Lite Kit
Robotics Starter Kit
E-Series Intro Kit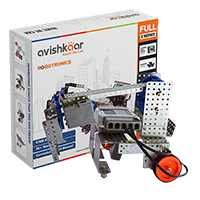 E-Series Full Kit
Product Description
---
The Axle shaft (Quatro) contains ten axle shafts. There are four 3.5", four 5.5" and two 8" axle shafts made with high strength steel to take heavy load.



●3.5" Shaft : 4
●5.5" Shaft : 4
●8" Shaft : 2